Kamdar Plastics was established in the year of 1989 by Mr. Praful & Bhavik Kamdar. Their vast experience and remarkable leadership qualities have always motivated the personnel to work with dedication and make their organization stand as a top ranking in the Industrial Raw Plastic Materials Supplier from Mumbai.
Our Distribution Network We are facilitated by our efficient distribution network that helps in catering to the demands of our esteemed clients all across the globe. Our well-defined line of distribution management assists in the swift dealing of orders.
We have set new standards in transportation process that helps in delivering our imported range at respective destination as per the client order and within the stipulated time frame. Besides, our logistic support and tie-ups with major plastic raw material manufacturing companies have provided us appreciable strength to reach out the niche in the market.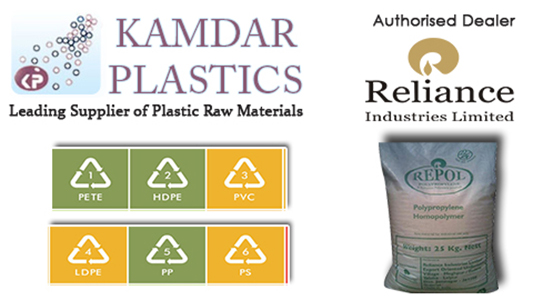 They are focused towards the development of our organization and carry our ethical business practices in attaining the zenith of success in the industry. Owing to their dedicated efforts we have been able to attain the market credibility offering supply requirements well-within time. Our team of researchers is engaged in continuous research practices and enables us in comprehending the market dynamics. They efficiently help us in keeping abreast of time and accomplishing an unrivalled position in the domestic market keeping us informed of the new manufacturers of this industry.
CIN No
U25209MH1996PTC098169
Year of Establishment
1989
Importer / Exporter Code Number
27680014997 / C DY 01.04.06